Tips Before Going to Disneyland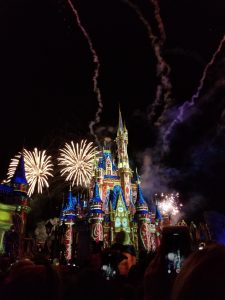 Spending a day, or even a couple, at Disneyland, is basically some sort of rite of passage for the best of us. But trekking around a couple of theme parks means aching feet, crying children, and bustling crowds are going to get to you at some point.
That's just not cool when there is so much to see and do (like grab the front seat on Space Mountain). So, I thought it was time I put together a few essential tips to prepare you for your unforgettable Disneyland visit and make sure that it really lives up to being "the happiest place on earth" for you and the family.
Whether you're a Disney old-timer or a newbie, here are my top tips to help you cut through the intensely busy crowds and have an absolute blast.
Consider Visiting Times
Logically, Disney parks are busiest during the school break and much less crowded when kids are in school.
Having said that, some of the best times to travel to Disneyland are between mid-January and mid-February, just after Labor Day Weekend through to early October, and also mid-April to mid-May. Also, the weeks between Thanksgiving and Christmas seem to be a little quieter.
There's a Lot to Do Before You Go. It's really never too early to plan your Disneyland adventure. In fact, I'd suggest getting your ducks in a row at least a month or so before you leave. You should make reservations for your sit-down dining as well as any character meals you want to have inside or outside the park. A month before you head off is also a great time to get your flight tickets and reserve a Disneyland tour, if you want to do the guided tour thing.
[the_ad id="1491″]
Get Your Tickets Before You Go. This is a top tip for Disneyland first timers that can save you at least an hour. Buy your tickets online before you go, and you'll get to waltz straight up to the entrance and skip spending an hour or more in line at the ticket booth. It's also worth remembering that Disneyland provides discounted tickets for members of the military and their families.
Consider a Park Hopper Pass. A Park Hopper Pass can take your day from great to amazing, especially if you're planning multi-day trips and are visiting with a big group of people. With Park Hopper passes, you can split a day in two, for example, and spend your morning at California Adventure before heading to Disneyland in the afternoon. It's the perfect way to fit more into your visit.
Get to the Parks Early
The shortest waits of your day at Disneyland are during those first few opening hours. Try to arrive at the park before opening time, and you're sure to be one of the first people to get in for the day.
Where Should I Stay While at Disneyland?
When Walt Disney first built Disneyland there was empty land as far as the eye could see, unfortunately since then it has become very crowded around the outside of Disneyland. There are some good respectable hotels in the area such as the Hilton, or Marriott, however at the same time there are many shady hotels in the area. If it's in the budget the best you can do is to plan to stay in one of the three Disney hotels, Disney's Grand Californian Hotel & Spa, Disneyland Hotel, or Disney's Paradise Pier Hotel. All three of these hotels are loaded with perks and Disney Magic that will bring the excitement of the park back to the room with you. Be careful where you reserve your hotel that you are not registering in a fraudulent website. Disney Has a link where you can reserve one of their hotels, or you can even browse other trusted hotels that Disney feels safe recommending their guest stay at. The real site to reserve your stay is https://disneyland.disney.go.com/hotels/ .
I'm not even sponsored By Disney to promote their hotels, I'm just speaking from experience. Some hotels appear to be amazing, however when you arrive you realize you are now further from the park then they advertised, the amazing pool they bragged about looks home made and is only 3 feet deep, the rooms are musky, and the bed sheets are multicolored, when they were supposed to be just white… (based on a true story, my true story) If you stay at a well known hotel like the Hilton or the Marriot most of them offer free shuttles to the park, so you can save your walking shoes for inside the park. What ever you do, don't think oh, I can just get a hotel room when I get there. If you go on a stroke of bad luck you could find yourself in a convention next door and every room could be booked forcing you to spend the night at the Hotel of Terror!
Know the Park
If it's your first time going to Disneyland make sure you have a good idea where everything in the map is located, so you are not wasting precious time lost trying to find a ride, or worse, needing a toilet five minutes ago and not knowing where to find one. Here is a map of Disneyland, click on the map to see a larger version. Don't panic if you forget where something is when you are there, or if you get lost. Just ask any friendly cast member, they will all be glad to help. They want to help make your memory as magical as possible.
[the_ad id="1491″]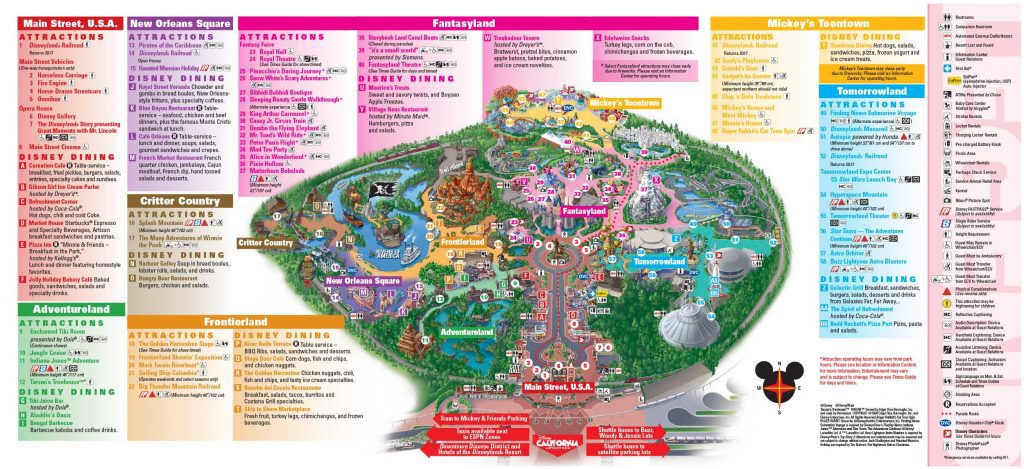 Get the App
If it's your first visit to Disneyland, you have absolutely got to download the app. It's safe to say you'll find it indispensable as the day goes on and the crowds get heavier. All you have to do is pull up the app and check out the waiting times for different attractions. There's also a really handy map to help you navigate your way around the park.
What's more, the app is great for helping you figure out which attractions to use FastPass for. On the whole, you want to use FastPasses for rides with a half an hour or less wait time.
Book Reservations Before You Arrive
To maximize your visit, make your dining reservations in advance, too, if you plan to eat at some of the award-winning restaurants.
In Anaheim, there are special dining packages that cover a full meal and reserved viewing for the awesome Main Street Electrical Parade that is well worth booking for an unforgettable experience.
Don't Forget the Water
Water fountains aren't everyone's idea of a good time. One of the top money saving tips for a Disneyland visit is to bring your own water and snacks. It means you can eat and drink on the move, saving you valuable Disneyland time.
[the_ad id="1491″]
Make a Plan
Finally, if you're planning on visiting attractions with long waits and no access to FastPass, it's best to plan those ones for when they have the lowest wait – usually at park opening and closing. Prioritize which attractions you want to visit, make a plan, and stick to it to maximize your Disneyland experience.
Do you have any top tips for Disneyland newbies who are planning a trip soon?
Get more great Disney advice at Crazy Nate today.
Image: Pexels
Comments