Not Another Grinch Movie…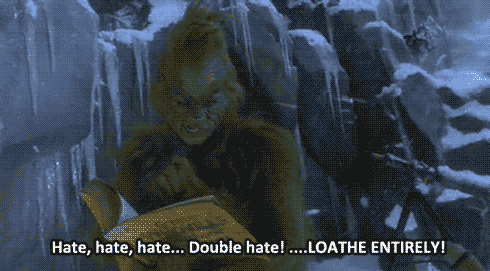 Apparently, two Grinch movies just aren't enough. So, here we go again. In 1966, the animated Christmas television "featurette" was a big hit. Then in November 2000, Jim Carrey's How the Grinch Stole Christmas stole our hearts. And now, a new Grinch is being dragged kicking and screaming to the big screen.
BBC Sherlock's and he of Smaug fame, Benedict Cumberbatch, is set to be the latest green Grinch's voice in this year's Illumination Entertainment's newest animation release.
Now, before you call me Scrooge, I actually love a good Dr. Seuss story. I just don't get why both Ron Howard and Jim Carrey's adaptation aren't enough for all of us.
Is there really someone standing around a good 17 years later like, "oh, yeah, let's bring back the Grinch for Christmas 2018?" I guess there is. It's why we're here.
Have You Seen the Trailer?
Okay, it's cool that this version is animated. The trailer's pretty enticing, too. It opens with our green Grinch waking up the only way a Grinch can – grumpy. He's hitting out at his radio alarm into the abyss of his 18-story mountainside apartment. He's not best pleased that Pharrell's Happy is blaring out at him.
So, now he's up and all, he might as well go out and get up to mischief. He spits in old lady pickle jars and that kind of thing. And then a blow-up snowman gives him a whack. That's when The Grinch heads home with an attitude and a need to binge figuring skating competitions. We get a daydream scene just before reality hits and, since he was bullied as a kid, he reckons it's time to ruin Christmas.
I'm not in any way taking bullying lightly. I'm saying that rerunning a movie for pretty much no good reason and making good folk like yourselves spend cash to see it again isn't so nice for the season of niceness – or any time of year.
Really, Do We Need Another Grinch Movie?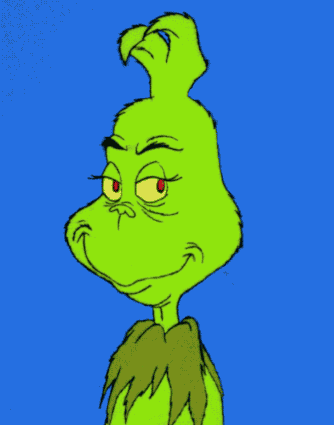 So, I've got to ask you this. Why exactly do we need another tale about The Grinch? Are there really different ways to tell the same story? Or is it just a case of going through different actors to give them the chance to be the voice?
I mean, we've had so many cool Dr. Seuss screen adaptations over the years. Besides How the Grinch Stole Christmas in 2000, we've had the 2003, The Cat in the Hat, 2008's Horton Hears a Who and 2012's The Lorax.
But I'm just going to say it. It's not enough. There are at least 48 incredible books from Dr. Seuss. Surely there's no need to repeat one – for a third time, no less?
I thought I'd make a list of my own. There are plenty of other Dr. Seuss books I'd far rather see in our movie theaters than The Grinch.
My Top 5 Picks of Dr. Seuss Books I'd Rather Pay to Watch
One Fish, Two Fish, Red Fish, Blue Fish
Pick pretty much any small story in here and have fun. I love Ned and his very little bed. Don't you think your little ones would love it?
Green Eggs and Ham
It's kind of coming up to potluck season, isn't it? Ugh. The peer pressure. The food that's been carried around uncovered. No thanks. Put Green Eggs and Ham on the big screen please so I can get away from Aunt Myrtle's potluck! Can't you just see Sam. I. Am heading off on big adventures with his buddies? I can totally picture it.
Daisy Head Mayzie
We could all learn a few things here. Lessons on glory and love. Lessons centered around being different. Lessons on what cultural appropriation actually do to a person's self-esteem. I could see this one filled to the brim with loads of color and tons of live action.
The Sneetches
This one would get right down to promoting an appreciation of cultural differences and promoting body positivity, don't you think?
The Zax
You'll find The Zax in a collector's edition of The Sneetches and Other Stories. It all centers around pride and how an unwillingness to compromise can be quite the undoing when the entire nation is fed up with your shenanigans and goes its separate way.
It might not really matter what I think, and it doesn't stop The Grinch being in theaters this holiday season one more time, and probably not the last time. But, come on, you've got to agree even a little that it would be super-cool to see any other Dr. Seuss stories come to life on our screens?
Become a Member of the Crazy Nate community and get exclusive emojis, secret votes for future videos, see the videos first, and much more.

Comments