When's The Best Time To Go To Disney World?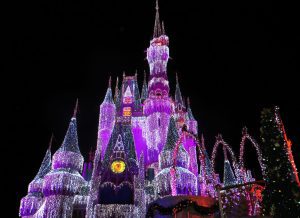 The ultimate home of electrifying parades, thrilling rides, and the most heart-warming characters on the planet, Disney World is the perfect vacation spot in Orlando (if not the world).
But when exactly is the best time to visit? You've heard about the massive crowds and the hefty accommodation prices, but these all fluctuate throughout the year.
The good news is that with a little planning, you can meet your favorite characters, dine in top restaurants, and watch the incredible fireworks display with ease.
Read on for our top tips on when to visit Disney World.
Visiting Disney World Between January and June
January is an easy, breezy month to visit Disney World. Some of the Christmas decorations will still be up and the New Year's Eve crowd has filtered out by then, leaving somewhat of a ghost town. That's okay, though, it's the perfect time to jump to the front of the queues and check out everything your heart desires like the Haunted Mansion, just remember to wear layers!
Early February is also great in terms of smaller crowds, but mid-February gets a little busier with the Northeast taking a week off school. March is also fairly moderate, crowd-wise, and the weather starts to warm up about now. You might want to avoid the end of March when spring breakers start to hit Florida with a vengeance.
Spring break is in full swing in April, which means parks are packed to capacity. But, if you're prepared to brave it, this is the time to head to the Magic Kingdom to meet the Easter Bunny and check out the stunning Easter Parade on Easter Sunday.
Come May, there are heavy crowds during Memorial Day weekend, but other than that, it's pretty moderate. This is when temperatures start to really heat up but are still bearable enough to do everything you've always wanted to do at Disney World. This is the month that the park's 24-hour event takes place and it's the perfect chance to dress like your best characters. It's a Disney marathon of note and an awesome way to see just how long you can last in the infamous Magic Kingdom.
June is hot. Super-hot. If you want to visit during this month, aim to visit the parks in the mornings and evenings when it's ever so slightly cooler.




Visiting Disney World Between July and December
The Magic Kingdom puts on a sensational Fourth of July fireworks display, but the park is seriously busy on that day. It's hot, crowded and if you must visit, use your FastPass+ to get to Splash Mountain for the ultimate cool down. August's crowds are also pretty heavy, but it's the hottest time in Disney World and it's not very comfortable, especially if your little ones are with you.
While September is still hot, it's peaceful. Most kids have gone back to school and the parks are noticeably emptier. It's during September that you can catch Epcot's famous Food and Wine Festival and there's also Mickey's Not-So-Scary Halloween Party that takes place around mid-month.
October has got to be the winning month to visit Disney World. The crowds are relatively light, and the weather is superb. The Food and Wine Show as well as the Halloween Party will all be in full swing and you can even dress up and trick or treat around the parks. The wait times for rides are minimal, too, making October the sweet spot.
Early to mid-November's also a good time to hit Disney World. The crowd levels are low, and the weather is mild. You can even walk on to a lot of the rides, and the wait times are around 30 minutes at the most. Keep in mind that the week of Thanksgiving and the weekend after are incredibly busy because most people are off school and work. But, it's still a good time to catch some of the early Mickey's Very Merry Christmas parties.
December is complicated. Earlier in the month is rather light in terms of crowds, and then it gradually swells form there. The last two weeks, especially, are chaotic. There's Christmas and New Year's Eve and those have got to be the busiest days ever at Disney World. It's definitely a ton of fun at Christmastime, the decorations are outstanding, the festivities are unforgettable, but it's pretty hard to have a good time when you're packed like sardines in a tiny tin.
It Just Takes Careful Planning
All things considered, Disney World actually follows a surge pricing model for park tickets, hotels, and resorts. No matter what time of year you visit, it's going to cost, so make sure you make the most of multi-day passes to get the most out of your trip and your budget.
Do your research, though, and you'll effortlessly plan the enchanted getaway your family has always wanted.
Become a Member of the Crazy Nate community and get exclusive emojis, secret votes for future videos, see the videos first, and much more.
Image: Pexels
Comments